What started out as an idea in 2018 turned into the launch of my very own consulting business – Cooley Consulting, LLC – incorporated as of February of this year, 2022. Based on my previous experience of community organizing, facilitation, and event planning, I thought to myself, "You're good at this, why not start a business?" And after the support, feedback, and prayers from my family and friends, my dream has become a reality. So my message to you all, "Do not give up on your ideas and dreams, seek advice and guidance from your family, friends, mentors, and colleagues, be persistent and patient, and lastly, stay true to who you are!" And with that, below are a few projects that I have facilitated during the pandemic.
Stay tuned for the launch of my business website, which will provide more information on services offered, rates, and ongoing projects.
INHABITANTS (2021)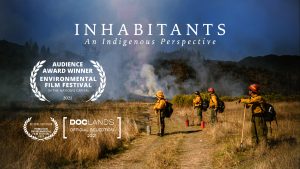 As a Native Impact Producer for a five-part Panel Discussion Series of INHABITANTS, my role was to assist with coordination, facilitation, outreach, and promotion for Impact Screenings and five Webinar events featuring the film subjects. INHABITANTS is a feature documentary that follows five Native American Tribes across deserts, coastlines, forests, and prairies as they restore their traditional land management practices. To learn more about the film, to host a screening, or to access the recordings from Parts 1, 2, 3, and 4 Webinar events, visit the INHABITANTS website. Stay tuned for Part 5!
Protecting the Little Colorado River (2021)
As an advocate for the protection of the lands & waters we are surrounded by, I was previously involved in a project "Protecting the Little Colorado River" and my role was to facilitate virtual & in-person meetings between Project partners, facilitate and/or participate in virtual conversations with community members, review & provide feedback on draft documents, and provide guidance on the project structure to ensure full transparency & cultural sensitivity.
Anti-racism DEI Training (February 2021)
I co-led a Diversity, Equity, and Inclusion (DEI) training for an outdoor hiking/backpacking company that was interested in working towards more diversity & inclusion. Topics, terms, and discussion included: intersectionality, Native appropriation, implicit bias, structural & systemic racism, white supremacy, microaggression, barriers to participation, and ways to be an ally in the outdoor industry.
Beyond the Pandemic panel series (2020-2022)
An effort that I started in June 2020 in response to the statements and momentum around Black Lives Matter/Indigenous Lives Matter and the injustices against people of color, this panel series features Black, Indigenous, and People of Color as they provide their insights on Indigenous sovereignty and diversity, equity & inclusion in the outdoors. Register here for Part III, which will feature four Indigenous guides as they share their experiences of working in the outdoor industry.