Upcoming
Native Teen Guide-in-Training camp
June 21-28, 2022
Native Teen Guide-in-Training is designed for
Indigenous students entering 8th – 12th grades interested in building community,
and developing leadership and whitewater rafting skills. The camp is open to teens
interested in learning technical skills, developing public speaking, and improving
leadership and team building skills. For more details, visit the Native
Teen website.
Part III – Beyond the Pandemic: Indigenous Guides
Join us for a virtual discussion on the challenges & opportunities of working
in the outdoor industry. This is Part III of a panel series featuring Black,
Indigenous, People of Color at they provide their insights on Indigenous
sovereignty as well as diversity & inclusion in the outdoors. Register here.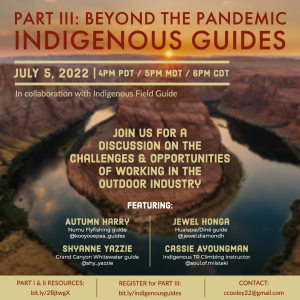 Watershed Specialty Trip in Desolation Canyon
August 8-13, 2022
Join us on this 6-day expedition to learn more about the challenges of water
resource management, climate aridification, and a restorative path forward
for the Colorado & Green River watersheds. Learn more here!
National Tribal & Indigenous Climate Conference (NTICC)
August 29 – September 1, 2022
St. Paul, Minnesota
The Institute for Environmental Professionals (ITEP) is excited to host
the second Biennial NTICC which will be offered as a hybrid event to
ensure that our relatives from across Turtle Island can join us whether
in-person or virtually. Registration is now open!
Colorado River Day Flagstaff (CRDF)
September 2-12, 2022
The Colorado River Days Flagstaff is a 2-week long educational event in
September to remind Flagstaff and surrounding communities about the
importance of the Colorado River and all it has to offer. The CRDF brings
together river runners, artists, businesses, scientists, educators, community
organizers, and anyone passionate about the Colorado River to celebrate,
write songs, tell stories, share art and photography, and engage in community
with each other. Stay tuned for more details!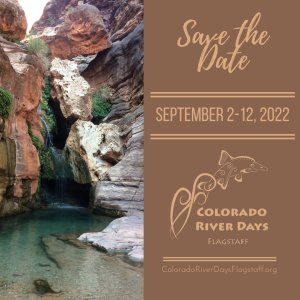 Past events
Flagstaff Mountain Film Festival
April 7-10, 2022
Gratitude to all that showed up to celebrate our 20th year! Thank you to our
sponsors, volunteers, and partners for making this festival a huge success! And
huge thank you to our special guests for sharing your knowledge, stories, and
experiences with the Flagstaff community! For those that were not able to
attend the festival in person, we missed you! But not to worry, the virtual
option for a select number of films is now available through June 30th!
For tickets and for more information, visit our website.
Native American Teen Guide-in-Training Panel Discussion
Click here to view the recording.