Past Events
National Tribal & Indigenous Climate Conference (NTICC)
August 29 – September 1, 2022
St. Paul, Minnesota
The Institute for Environmental Professionals (ITEP) is excited to host
the second Biennial NTICC which will be offered as a hybrid event to
ensure that our relatives from across Turtle Island can join us whether
in-person or virtually. Stay tuned for recordings and resources from this
year's conference at this link.
Part III – Beyond the Pandemic: Indigenous Guides
An important discussion regarding challenges and opportunities of working
in the outdoor industry. Featuring four amazing Indigenous guides, instructors,
and educators: Jewel Honga, Hualapi/Diné guide; Autumn Harry, Numu
Flyfishing guide; Cassie Ayoungman, Indigenous TR Climbing Instructor;
and Shyanne Yazzie, Grand Canyon Whitewater guide. This is Part III of a
panel series featuring Black, Indigenous, People of Color at they provide their
insights on Indigenous sovereignty as well as diversity & inclusion in the outdoors.
Access to Part III recording here. Access to Parts I, II, and III recordings and
resources, click here.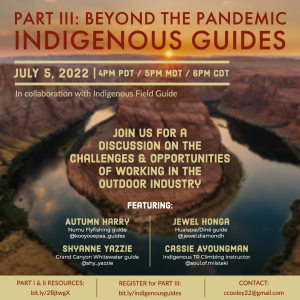 Native Teen Guide-in-Training camp
June 21-28, 2022
Canyonlands Field Institute is celebrated its 10th year of the Native
Teen Guide-In-Training Camp! This camp was developed to invest in
Native-Centered Teen programming for rising 8th-12th graders through
place-based outdoor education, social-emotional learning curriculum, as
well as to provide accessible pathways for Native Teens to learn about
guiding and natural resource career opportunities. For more information
or to donate, visit the Native Teen website.
Flagstaff Mountain Film Festival
April 7-10, 2022
Gratitude to all that showed up to celebrate our 20th year! Thank you to our
sponsors, volunteers, and partners for making this festival a huge success! And
huge thank you to our special guests for sharing your knowledge, stories, and
experiences with the Flagstaff community! For those that were not able to
attend the festival in person, we missed you!
Native American Teen Guide-in-Training Panel Discussion
Click here to view the recording.